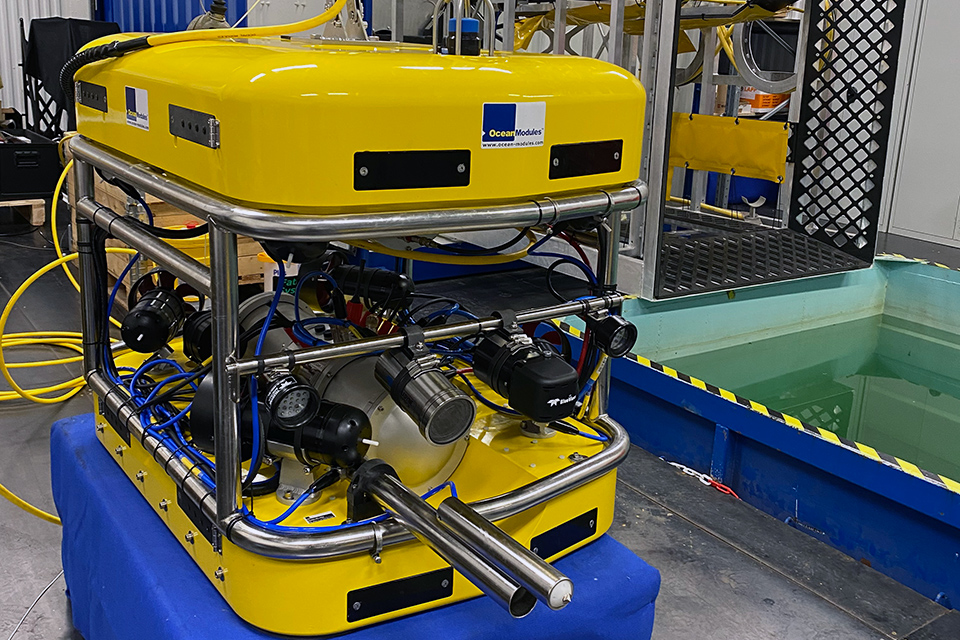 New order for Ocean Modules V8 L3000 OFFSHORE
Ocean Modules has received another order for its V8 L3000 Offshore.

The V8 L3000 Offshore will come equipped with a Teledyne Marine TSS 350, a BlueView M900-130, a BlueView BV5000, Bowtech LEDs, an OceanTools Ltd DigiCP, a Tritech MicronNav, a CaviDyne LLC Water Jet System, an Imenco Micro Latch and an Ocean Modules digiPhone+.

The Ocean Modules digiPhone+ solution for underwater cable fault pinpointing is built upon the sebaKMT digiPhone+. The digiPhone+ is a small handheld device for cable fault location that is used together with a suitable surge wave generator, which has proved to work exceptionally well under water. Ocean Modules has developed an underwater housing and a data interface so that the digiPhone+ can be mounted and operated from an Ocean Modules V8 ROV. The Ocean Modules ROVs are well-suited for this type of task since they can to keep the sensor perpendicular, and at a constant altitude above the sea bottom, using an advanced control system and an altimeter.

The Ocean Modules V8 M500 and V8 L3000 ROV systems are ideal for cable tracking, as the unique 360° six-degrees-of-freedom control system allows precise control over every angle of the vehicle, in any combination. The control system can hold the chosen position indefinitely by automatically correcting for forces such as current, umbilical tether cable drag and uneven weight or buoyancy balancing.

To document and report cable surveys, Ocean Modules has implemented the digiPhone+ user interface and TSS user interface into SPOT.ON, a patented survey management software developed by Ocean Modules. SPOT.ON allows operators to supervise, manage and collect synchronized geographic position, video and virtually any other type of data in a survey environment.

Ocean Modules has a decade of experience integrating custom sensors and tools requiring precise positioning for correct measurement, sampling and lifting, serving customers such as television broadcasters, polar exploration institutes, environmental research facilities, universities, the energy sector and militaries all over the world.